Skip the Line Wawel Castle Chambers Private Tour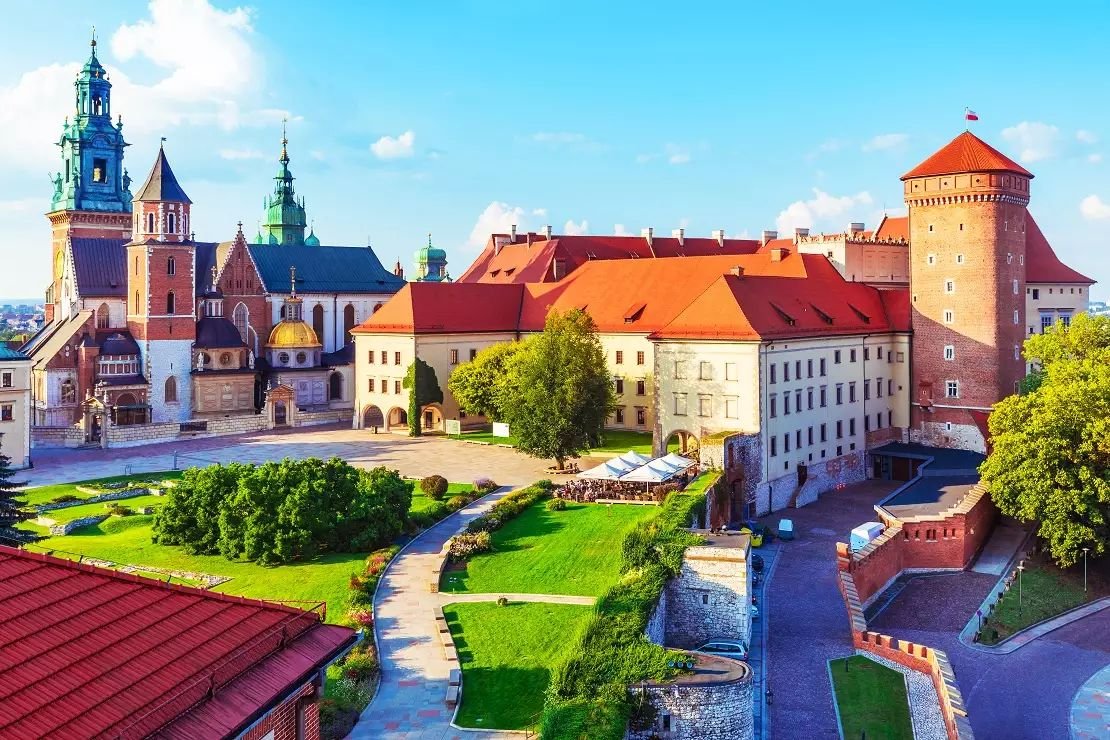 Experience a thrilling tour in a World-known sight - Wawel Castle! Get inside with a skip-the-line ticket and be led by your private guide. Visit the amazing Wawel Castle Chambers and Cathedral. Get to know the excellent history and heritage of former Polish Kings.
Highlights
Explore the finest Castle in Poland – Wawel Castle, see UNESCO-listed sight and get inside with Local Expert-Guide
Visit Wawel Castle Top1 attraction and Wawel Cathedral Top2 attraction in Krakow during One Tour
Enjoy exclusive tour for you and your friends thank to Private Guide who will adjust tempo and information according to your wishes
Avoid standing in the long queue with skip-the-line tickets
See amazing treasures collected by Polish kings through the Golden Ages! Listen to fascinating story of King Zygmunt III Waza
Free cancellation up to 24 hours before activity starts
Best price guarantee - no brokers
Please enter the number of tickets
Activity details
Facilities
1,5 - 4 hours
Private Tour

Exclusive only for you

Just buy and we get organized immediately

Your booking guarantees that the tour is already fully organized, come and enjoy!

Live Guide

English, German, French, Italian, Russian, Spanish, Polish

Walking tour
Skip The Line Tickets for Priority Access
Full description
Visit the best Castle in Poland during the Private Tour and take the chance to truly meet amazing Wawel Castle in Krakow! Use a fast track entrance ticket and save 2-3 hours without waiting! Avoid the endless queue and enjoy excellent sightseeing inside! Choose our tour with a 5-Stars Guide. He adjusts tempo and cares about every detail for your best experience.
Choose a 2-hours Wawel walking tour and get to know the true value of Wawel Hill and Castle. Enter the great castle, home of the most famous Polish Kings, like Zygmunt III Waza or Wladyslaw Lokietek. We provide only those guides who have a special licence and they show you local nooks and crannies. Explore Royal State Rooms and Wawel Chambers. You will see many ancient paintings, outstanding furniture and stunning tapestries. Some of them have been preserved from original decoration, but moreover you will see original Royal heritage and hear the best facts and legends. You will also see picturesque Wawel Hill and Courtyard surrounded by defensive walls. The whole view is like a fairy tale and intimidates with its greatness.
Gain more knowledge and excitement in the 3-hours option. Visit also the Wawel Cathedral. It's the most important cathedral across Poland, a real pearl among architectural masterpieces. Monumental towers already arouse emotions. Get inside with your guide and admire the outstanding interior! It's a former place of coronation Polish kings and their burial place. Climb up and see Sigmund's famous bell in the tower and many richly decorated chapels.
For hungry explorers we have an extra option which lasts 4 hours and gives access to the Royal Treasury! It's a great presentation of the most valuable insignia collected from generation to generation or as diplomatic gifts among monarchs. Crowns, sceptres and swords are just some of the many stunning objects. Come and see on your own. Behind each treasure there is an intriguing secret fact.
Includes
Private Walking Tour of Wawel Castle, Royal Treasury, Hill and Cathedral
5-Stars Guide with Official Wawel License speaking fluently in chosen language
Skip-the-line ticket to the Wawel Castle State Rooms (in all options)
Regular ticket to the Wawel Cathedral (in 3 and 4-hours option)
Skip-the-line ticket to the Wawel Royal Treasury (in 4-hours option)
Fascinating facts and history of Wawel Castle, Cathedral and Polish Kings
Important information
Important information
What you should know
To take part in a guided Tour of Wawel Castle you should book the tour from Tuesday to Sunday. On Monday guided tours in Wawel Castle are forbidden so your guide will tell you the history of a rich collection of Wawel Royal Treasury and Wawel Castle from the outside. The guide will also show you where you can get free tickets to visit the Royal Treasury on your own.
Please ensure you are on time. Being late may prevent you from joining the tour as tickets might be purchased in advance on a specific time slot.
Please check your email the day before the tour in order to receive important information.
If you have chosen the 3-hours option please be aware that skip the line tickets are provided to Wawel Castle and to the Cathedral – regular tickets.
Please be aware that during Polish or Catholic events there may be more visitors than usual and the waiting time in the queue to the Cathedral may be extended.
Skip the Line Wawel Castle Chambers Private Tour