Konopiste Castle Trip from Prague by Private Car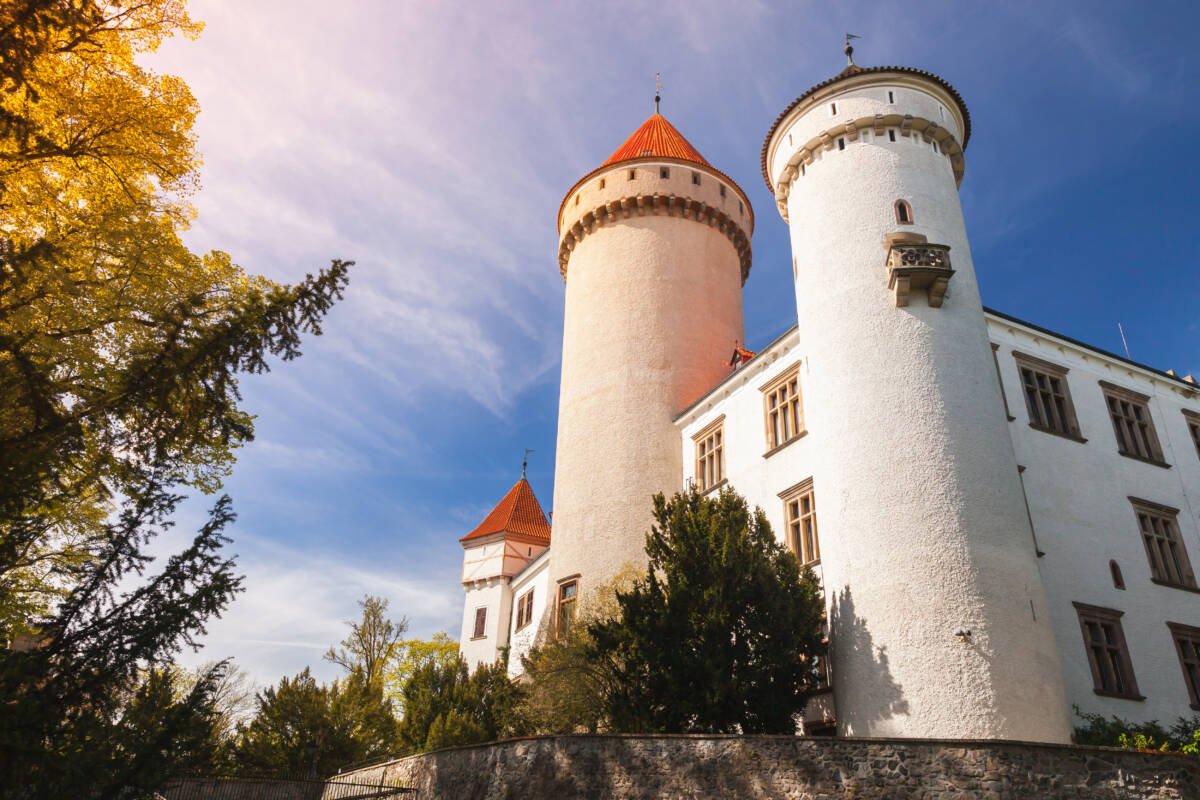 Discover the charms of the Konopiste Castle and Garden, the last residence of the Archduke Franz Ferdinand. Explore the castle interiors with a Licensed Guide and see antique furniture, artwork, hunting trophies, guns and weapons and more.
Highlights
Enjoy a tour of the Konopiste Castle led by a 5-Star Licensed Guide
See original castle interiors featuring collections of art and armoury
Learn about the castle's noble residents like Franz Ferdinand of Austria
Enjoy the beautiful flowers and wild animals in the castle gardens
Take advantage of private transport from Prague
Free cancellation up to 24 hours before activity starts
Best price guarantee - no brokers
Please enter the number of tickets
Activity details
Facilities
4 Hours
Private Tour

Exclusive only for you

Just buy and we instantly organize

Your booking ensure the tour is already fully organized, just come and enjoy!

Live Guide

English, German, French, Italian, Russian, Spanish, Polish

Car Transport
Skip The Line Tickets for Priority Access
Full description
Join us on a half-day trip from Prague to Konopiste Castle, a National Cultural Monument in the heart of Bohemia. For your comfort, we offer skip-the-line tickets and a private transport with a pickup and drop-off directly at your Prague accommodation. Explore nooks and crannies of Konopiste Castle with an Expert Guide and immerse yourself in Czech history and heritage!
Choose the 4-hour option to visit the Konopiste Castle. The castle is best known as the last residence of Franz Ferdinand of Austria, whose assasination in Sarajevo triggered World War I. On your visit, you will join a Licensed Castle Guide on a tour of the apartments of the north or the south wing of the castle. Each route offers fascinating history, beautiful decor and many surprises!
In the Baroque-style south wing you can find beautiful spaces like the Rose Room, which is adorned with a pink ceiling and white stucco, Rococo-style furnishings from the 1800s, expensive paintings, a hunting corridor filled with thousands of hunting trophies, and a historical bathroom. Alternatively, you can explore the north wing, which is the oldest part of the castle. It houses the largest collection of armoury in the Czech lands, including mediaeval knight armors, swords, spears and hunting rifles and pistols. Another point of interest is the castle chapel, which features a 16th century vaulted ceiling painted blue with gold stars to represent the night sky and a beautiful neo-Gothic altar.
After the guided tour, you will have free time to explore the castle grounds. Marvel at the majestic Konopiste Castle with its French fortress-style architecture as you take a stroll through the English-style castle park. Enjoy the terraces, Italian Renaissance statues, a large lake and a Baroque-style rose garden. It is a beautiful countryside estate with many wild animals, such as the colourful peacocks, deers and a bear in the fortification moat.
Includes
Half-day trip from Prague to Konopiste Castle by Private Car
5-Star Licensed Guide who is fluent in your chosen language
Skip-the-line tickets for a 50-minute tour of the castle
Free time to explore the castle park and garden
Private transport with a pickup and drop-off at your accommodation
Important information
Meeting point
Pickup and drop-off at your accommodation in Prague
Important information
What you should know
Please check your email the day before the tour to receive important information.
Please note that other participants may join your group at Konopiste Castle. Private tours of this attraction can be arranged for groups larger than 15 people, however, due to the limited number of guides this cannot always be guaranteed.
We will arrange private transfers in a standard car (sedan) for groups of 1-4 people, and in a large van for groups of 5 people and more. If you're travelling in a smaller group but want to travel in a more spacious car, we recommend booking a tour for 5 people to take advantage of the van transport.
Konopiste Castle Trip from Prague by Private Car