Buckingham Palace and Royal History Private Tour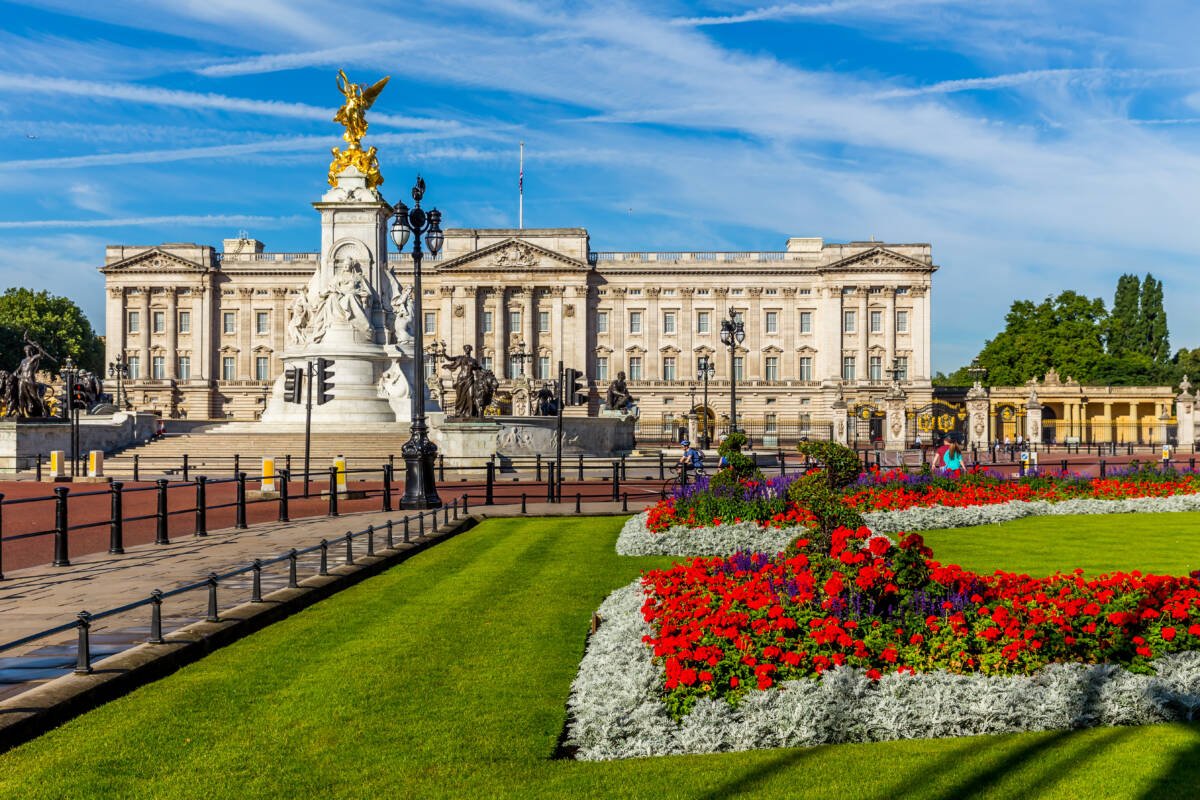 Delve into the heart of England's royal heritage and see the world-famous Buckingham Palace, St James Palace, Admiralty Arch and Trafalgar Square. Enhance your experience with sightseeing in the City of Westminster and see the iconic Big Ben.
Highlights
Discover London's Top Royal Attractions with a 5-Stars Expert Guide
Learn about the British Royal Family and see the Buckingham Palace
See historic buildings and monuments
See the Westminster Palace and Abbey (in 4 and 5,5-hour options)
Enjoy the comfort of private car transfers in London (in 3,5 and 5,5-hour options)
Free cancellation up to 24 hours before activity starts
Best price guarantee - no brokers
Please enter the number of tickets
Activity details
Facilities
2 - 5,5 Hours
Private Tour

Exclusive only for you

Just buy and we instantly organize

Your booking ensure the tour is already fully organized, just come and enjoy!

Live Guide

English

Walking & Transport
Full description
Follow the royal route from Trafalgar Square to Buckingham Palace with a Private Guide who is an expert in royal history of Britain. Learn about Queen Elizabeth II, her predecessors and successors. Discover interesting facts about the British monarchy and the government and see royal heritage sites in Westminster, London.
Join this exclusive 2-hour tour to see Buckingham Palace, the Queen's official London home and of England's most famous landmarks. Begin your royal adventure at the historic Trafalgar Square, where you will find statues of James II, George IV and Charles I. Walk under the monumental Admiralty Arch and see the site of the famous Horse Guards Parade, always guarded by the Queen's Cavalry.
Follow part of the Diana, Princess of Wales Memorial Walk through St James Park while listening to the story of the British royal family, from James VI and I (who united England and Scotland) to the present monarch, Elizabeth II. Your Royal History Expert Guide will help you understand the family tree of the Windsor family, their titles, public role and royal lifestyle. See the striking 16th-century St James Palace and the iconic Queen Victoria Memorial with formal gardens. The tour will end at the gates of Buckingham Palace, where you can meet the Queen, or at least see her loyal guards in the famous red coats.
Choose the 3,5-hour option to enjoy this exclusive royal history tour with private car transfers from your London accommodation. Avoid getting lost by booking a convenient pickup and drop-off service. We will organize a 5-Stars Driver and a private car exclusively for your group of friends/family so you won't have to share with other passengers.
Join the 4-hour tour to see Buckingham Palace and highlights of the City of Westminster, London! During this original tour you can learn more about the British constitutional monarchy, that is, the unique relationship between the Queen and the government. Admire the mighty Westminster Abbey and the Palace of Westminster, the center of British democracy. See iconic sights such as the Big Ben, Downing Street and other historic buildings and monuments along Whitehall.
The 5,5-hour option includes an extended walking tour and private car transfer in a clean, air-conditioned vehicle. Enjoy exploring the City of Westminster, from Westminster Abbey to Buckingham Palace, with an Expert Guide and take advantage of a pickup and drop-off at the address provided when booking. Let us make this exclusive tour a hassle free experience!
Includes
Buckingham Royal Heritage and Westminster Highlights Private Tour (number of attractins depends on the selected option)
5-Stars Expert Guide who is fluent in the chosen language
Historical facts and anecdotes about the British Royal Family
Tour of the City of Westminster (only in 4 and 5,5-hour options)
Pickup and drop-off by a private car (only in 3,5 and 5,5-hour options)
Tour of the City of Westminster (in 2 and 3,5-hour options)
Pickup and drop-off by a private car (in 2 and 4-hour options)
Important information
Meeting point
Meet your guide in front of the Obelisk Charles James Napier, Trafalgar Square, London WC2N 5DW, UK
Pickup and drop-off at your accommodation in London(in 3,5 and 5,5-hour options)
Important information
What you should know
Please check your email the day before the tour to receive important information.
The 3,5 and 5,5-hour options include an appr. 1,5-hour transfer time between the meeting point and the address of your accommodation provided when booking. Please note that the transfer time quoted is for information purposes only and the exact schedule will depend on the location of your London accommodation.
Buckingham Palace and Royal History Private Tour