Munich Top 5 Churches Sightseeing Tour with Private Guide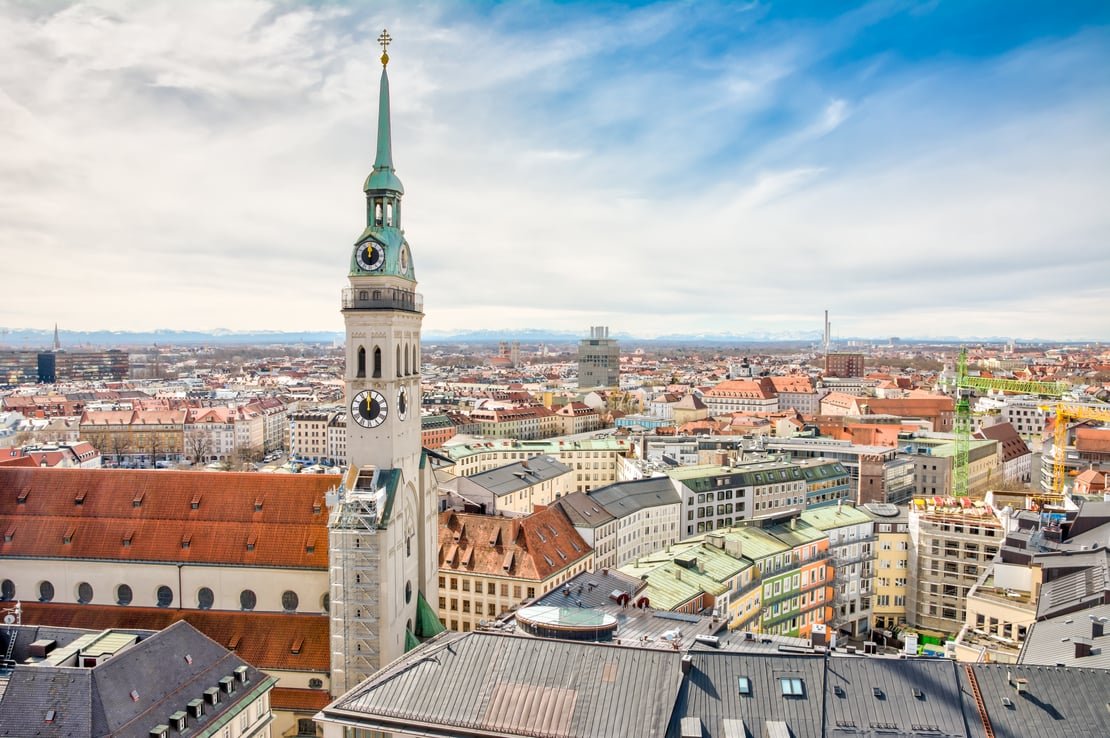 Discover the historical and sacral highlights of Munich's Old Town with a 5-Stars Private Guide! Visit St. Peter's Church and its viewing terrace, Frauenkirche (Cathedral), Asamkirche, St. Michael's Church and Theatine Church.
Highlights
See 5 top churches in Munich with a 5-Stars Private Guide
Visit Frauenkirche, Asamkirche, St. Peter and St. Michael
Admire the sweeping views from the towers of St. Peter's Church (in 4-hour tour)
Discover the baroque treasures of Theatine Church (in 4-hour option)
Learn about sacral architecture and art
Free cancellation up to 24 hours before activity starts
Best price guarantee - no brokers
Please enter the number of tickets
Activity details
Facilities
3 - 4 hours
Private Tour

Exclusive only for you

Just buy and we instantly organize

Your booking ensure the tour is already fully organized, just come and enjoy!

Live Guide

English, German, French, Italian, Spanish,Polish

Walking tour
Skip The Line Tickets for Priority Access
Full description
Munich's churches and cathedrals play an important role in protecting the city's historical and cultural heritage. Join a Private Guide on the streets of Munich's Old Town to discover its 5 most remarkable churches. Explore centuries of sacral architecture and art!
The 3-hour option includes a visit to 4 popular churches. The walking tour will begin at Marienplatz, where you will find the New Town Hall, the golden statue Mariensäule and Altes Rathaus (Old Town Hall). This bustling city square is dominated by St. Peter's Church, the oldest church in the city. Step inside to discover its treasures, such as the ornate high altar, the 14 stations of the cross, and the jeweled skeleton of St. Mundita.
Follow your Private Guide along the cobblestone streets of the Old Town to Asamkriche, where you will find the most expensive, baroque interior swatched in gold leaf, frescoes and stucco. Another must-see church on this tour is St. Michael, the largest Renaissance church north of the Alps, which contains church crypts with tombs of Eugène de Beauharnais and notable people from Bavaria. The final stop will be at the monumental Frauenkirche, also known as the Munich Cathedral. Inside, you will find a soul-inspiring gothic interiors and learn about the 1945 bombings and its legendary Devil's footprint.
Choose the 4-hour option to discover a hidden gem among Munich's churches – the fabulous Theatine Church (Theatinerkirche) at the historic Odeonsplatz.From the outside, the facade is plain yellow Rococo-style, but inside you will find an impressive and overwhelming interior with a high altar, sculptured columns, statues and great stucco. In this option also you will get on top of St. Peter's Church Tower, which offers the best panoramic views of the city. On good weather days you can see as far as the Alps, making it a truly unforgettable experience!
Includes
Private Tour of the top churches in Munich's Old Town
Licensed Private Guide who is fluent in the chosen language
Free entry to St. Peter's Church, Frauenkirche, Asamkirche, and St. Michael's Church
Free entry to Theatine Church and tickets to St. Peter's Church Tower (4-hour tour only)
Pick up from your accommodation (only n Munich Old Town)
Pickup from addresses outside the Old Town
The Royal Crypts in St. Michael's Church (optional, 2 €)
Important information
Meeting point
Meet your guide in front of hotel BEYOND by Geisel, Marienplatz, Munich, Germany. Please do not enter the building, it is only a meeting point Open in Google Maps
Important information
What you should know
Please check your email the day before the tour to receive important information
Please note that visiting some of the churches during the daily, Sunday and holiday masses may be restricted, therefore tours will only take place from the outside
When choosing the tour starting time, please note that operating hours of St. Peter's Church Tower is every day from 12 PM to 4:30 PM. Visit to the tower will be excluded from the itinerary outside of these hours, as well as during the limited opening hours on Christmas and New Year's Eve and all day on Good Friday
The pickup service is available only for accommodations located within ZIP-code zone 80331. For all other ZIP-code zones the meeting point will be in front of hotel BEYOND by Geisel, Marienplatz 22, 80331, Munich, Germany.
Please do not enter the building, it is only a meeting point
Providing the address of your accommodation during the booking time indicates that you want to meet your guide at this address, as long as it is located in the Munich ZIP-code zone 80331
Munich Top 5 Churches Sightseeing Tour with Private Guide