Moszna Castle and Plawniowice Palace 1-Day Tour from Krakow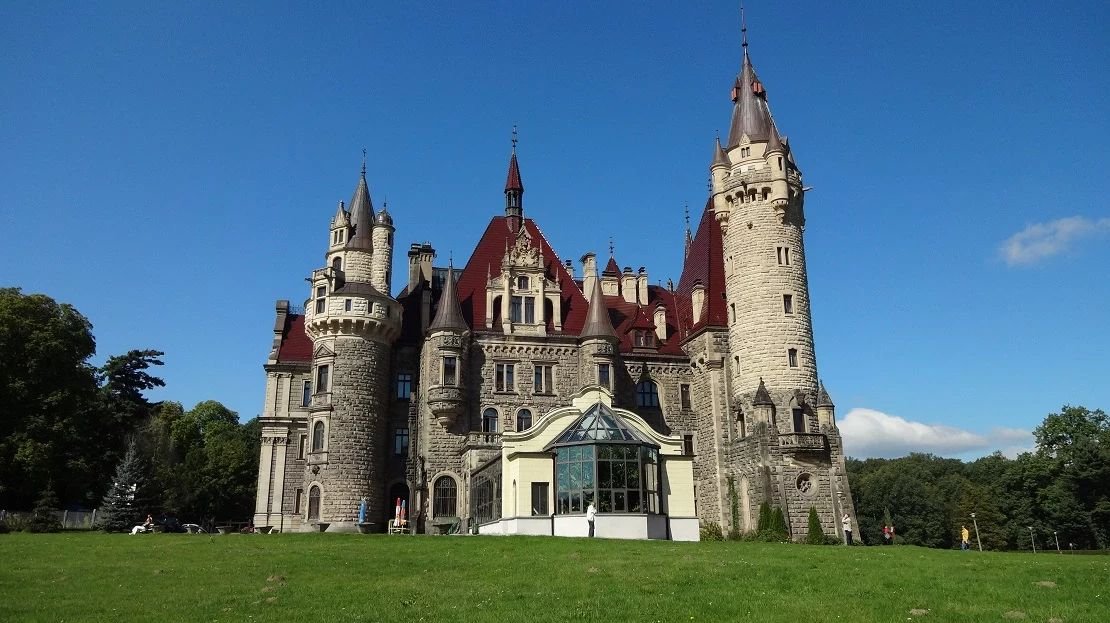 Explore the wealth of Moszna Castle on this private guided tour, see most important parts of the castle, including the towers, chambers, Ball Room, gallery and Count's room. All of these is surrounded by incredible history and beautiful nature!
Highlights
Take part in guided tour and travel from Krakow to one of the most stunning castles in whole Poland – Moszna Castle

Step inside rich chambers, ball room, library and also explore heritage of Tiele-Wienckler family

Walk around beautiful area full of nature, hills and mountains around the castle

Enjoy door to door transport from your place in Krakow

Admire architecture of huge Plawniowice Palace as well as its garden complex
Free cancellation up to 24 hours before activity starts
Best price guarantee - no brokers
Please enter the number of tickets
Activity details
Facilities
9 hours
Private Tour

Exclusive only for you

Just buy and we get organized immediately

Your booking guarantees that the tour is already fully organized, come and enjoy!

Live Guide

English, German, French, Italian, Russian, Spanish, Polish

Car Transport
Full description
The Castle in Moszna is historic residence built in the mid XVIIIth century, as a baroque palace. In the next century it burned and was renewed. During Krakow Moszna Castle tour you will explore this fantastic place with live commentary from you private guide. Drive safely by convenient car transport from Krakow. You will have a pick-up right at your accommodation.
At first you will have a chance to get a careful look at the exterior of the country. You will be able to admire its architecture and fusion of various architecture styles. Mostly you will see baroque style with later additions in other styles such as neo-gothic and neo-renaissance. All of it formed its current look. It has picturesque garden complex outside. Perfect place for relax and deep breath. People often say that The Moszna Castle is one of the most beautiful castles in the world. Your professional guide will tell you the history of the castle as well as the Tiele-Wienckler family that used to live there.
Once you have the proper introduction of Krakow Moszna Castle, step inside this beautiful palace, and take a look at its impressive interior. You will see many rich chambers, including big ball room. Look inside former Mirrors Room, great library, gallery and Count's room. Explore the former residence of the German family and the way they were living there. You can also climb up in Castle's towers to see amazing mountain landscapes!
One the way the guide will take you also to magnifect palace castle-size, with beautiful garden complex full of flowers, trees and plants. It's a Palace in Plawniowice village. Standing there moves you to some kind of magic fairy land. Its fantastic architecture, colours, sculptures, many towers and courtyard will amaze you!
Includes
Private Day Trip from Krakow to Moszna Castle and Plawniowice Palace by Car
5-Star Licensed Guide who is fluent in the language selected when booking
Skip-the-line tickets to Moszna Castle
Entrance fee to Plawniowice Palace and Park
Private car transfers with pickup and drop-off at your accommodation
The tour selected is a VIP tour. You will be picked up by us from the hotel.
You will provide the hotel address in payment process.
Important information
What you should know
Please check your email the day before the tour for important information
Please note that Plawniowice Palace has very limited opening hours. In the summer, you can enter the palace on Sundays – 14.00-17.00, Tuesday and Thursday – 14.00-15.30, and Saturdays- 12.00-14.00. On other days and in winter time, you will visit only the palace park.
With skip-the-line tickets to Moszna Castle you can skip the line at the ticket office but not at the entrance.
We will arrange private transfers in a standard car (sedan) for groups of 1-4 people, and in a larger van for groups of 5 people and more. You can book a 5-people tour for a larger vehicle.
Lunch can be arranged upon request.
Moszna Castle and Plawniowice Palace 1-Day Tour from Krakow