Lazienki Park and Palace or Royal Baths Park is the largest park in Warsaw! It takes 76 hectares of the Warsaw city center.
Nobleman – Stanislaw Herakliusz Lubomirski designed it in the 17th century as a baths park. One century later, Stanislaw II Augustus transformed it into a complex of palaces, villas, classicist follies as well as monuments.
In 1918 it became a public park. Nowadays, Lazienki Park and Palace is a popular place for tourists to visit. It is also a venue for music, art as well as culture. In addition, the park became home to squirrels and also peacocks.
Browse different  Warsaw Tours
What can you see in Lazienki Park and Palace?
There are many beautiful buildings and monuments for you to see.
Palace on the Isle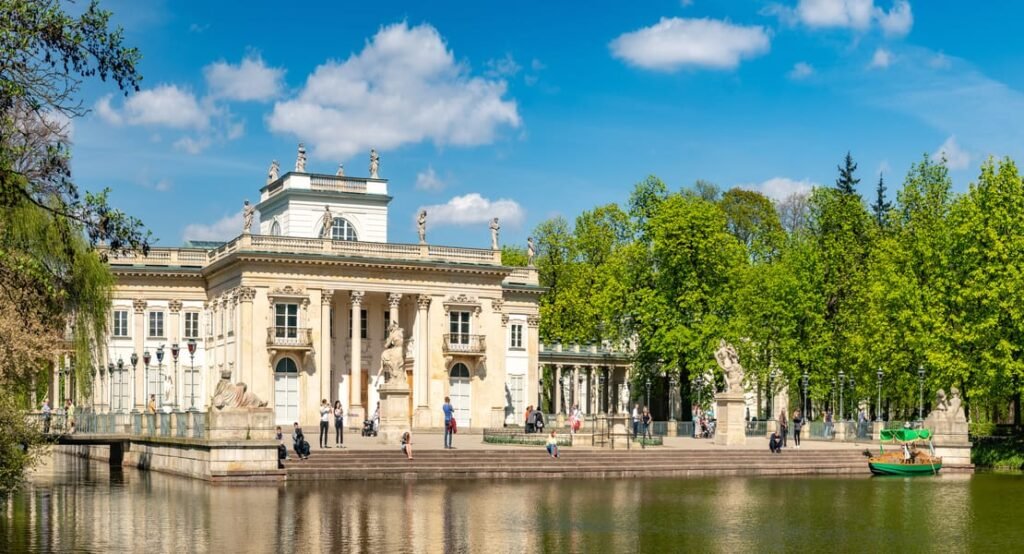 This is the most important edifice of Lazienki complex. In 1680, Lubomirski built it as a baroque Bath-House. Tylman van Gameren designed this building. He was the most outstanding architect in Poland then.
This was a square shaped structure. It had three side protrusion on its northern elevation. Inside of this building was a round hall with a fountain. The Interior, as well as the exterior of the palace, were richly decorated. Portion of the decorations survived to this day. You can see them on the entrance wall and also the entrance hall.
In 1772, Stanislaw Augustus took interest in this building. He restored some parts of the palace and even turn them into living quarters. A few years later, in 1784, Dominik Merlini designed more changes there. He added two new annexes on the southern side. He joined them together by a row of four columns.
Four years later another two segments were added. In 1793, two additional pavilions were constructed. The pavilions were joined to the palace by little bridges with columned galleries.
In 1788, Jan Chrystian Kamsetzer designed a completely new interior. He added two-tiered Ballrooms with amazing decorations in the western segment. The walls were decorated in gold and were divided into half-columns. Moreover, he added four niches with the marble statues of the greatest Polish monarchs.
On the ground floor, there is the portrait room with picture gallery of paintings that kings and queens collected over time. There is also a small chapel.
The first floor consists of the picture gallery, a royal bedroom, library, suite, and study as well as quarters of some servants.
Classical amphitheater, and stage on the isle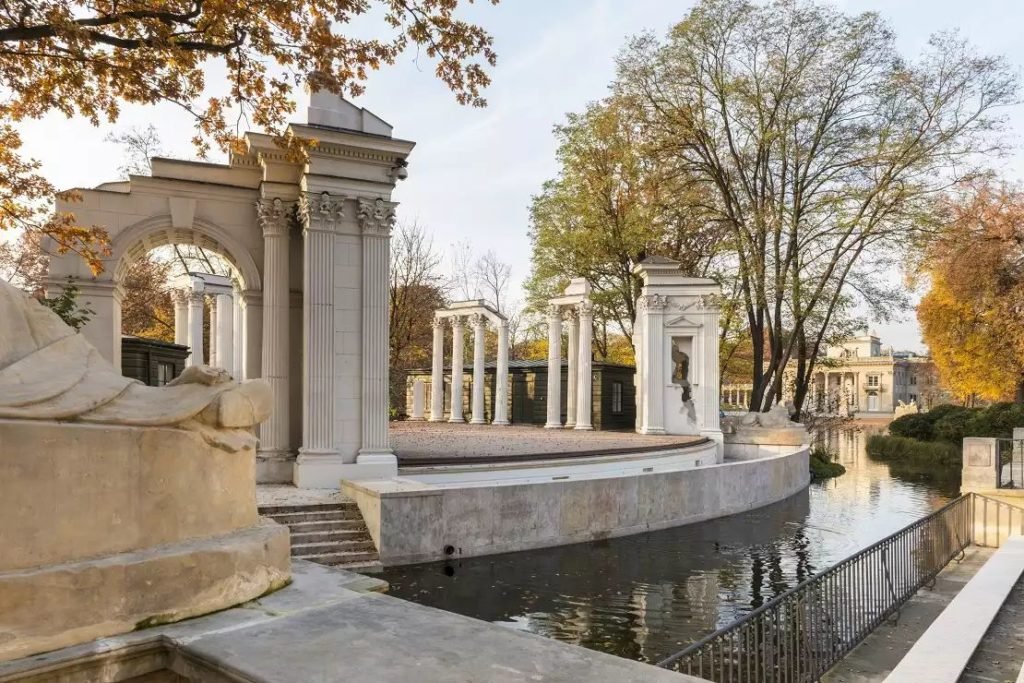 Jan Chrystian Kamsetzer was building the amphitheater from 1790 to 1793. Ancient Roman and also Greek architecture was inspiring him. He built it on the bank of Lazienki lake. Narrow strait from its stage on a small island is separating the amphitheater.
Attic was decorated with 16 statues of famous poets, playwrights as well as thinkers of antiquity. In 1922, 8 statues replaced the 16 ones.
To this day, people performing on the stage on the isle. On a summer evening, you can also hear their noises of swans, ducks as well as peacocks.
White House
Domenico Marlini was building this garden villa from 1774 to 1776. King Stanislaw August Poniatowski and also Louis XVIII lived there.
The Little White House is built in the form of a square. It has identical facades. Polish painters decorated the interiors of it.
Myślewicki Palace
People named this palace after the village – Myślewice. This village doesn't exist anymore. The palace was placed at the end of the road that leads to the town.
Another building for you to see:
The New and Old Orangery
Temple of Diana
Egyptian temple
Water tower
The Hermitage
The New and Old Guardhouse
Stables and Coach-houses
Invalids' Barracks
Narutowicz's house
Bridge, with a monument to King John III Sobieski
Chopin Monument
Henryk Sienkiewicz Monument
Lazienki Park and Palace Opening Hours
Lazienki Park Opening Hours:
from Monday to Friday: 10 am – 8 pm
from Saturday to Sunday: 8 am – 8 pm
Palace on the Isle, White House and also The Old Orangery opening hours:
from Tuesday to Sunday: 10 am – 4 pm
You can enter the objects to half an hour before closing.
Tickets to Lazienki Park and Palace
You can visit Lazienki Park for free. If you want to visit the Lazienki Palace as well as other pavilions you need to pay for a ticket:
Normal ticket: 15 PLN
Discount ticket: 7 PLN
On Fridays, you can enter for free.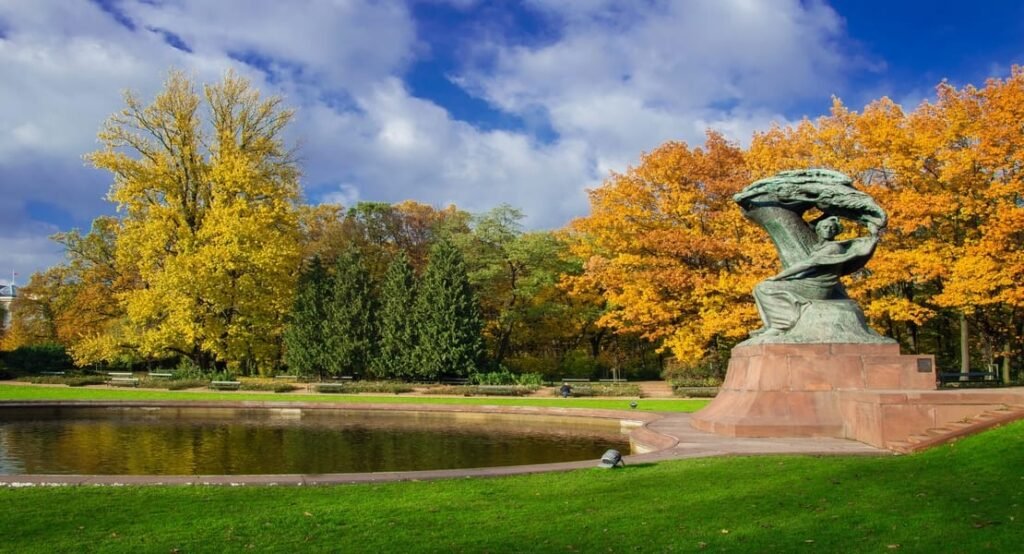 If you are in Warsaw and you want to visit Lazienki Park and Lazienki Palace join our amazing tour! You will not only have private guide but also the tickets!
Your guide will take you around the beautiful Lazienki Park that surrounds the palace. Later you will go for a gondola cruise to see the palace inside. Your guide will tell you history of this place as well as history of Polish Kings.
At the end, you will go to the Belweder Palace. It is former residence of Polish presidents!
You have two options of this tour to choose from:
During 3 hours version of the tour you will visit Lazienki Park and Palace. You will also take part in gondola cruise, learn the history of Lazienki as well as Polish Kings. Moreover, you will see the Belweder Palace.
During 4 hours version of the tour you will visit the same places as in the 3 hours version. Addition of this option is pick up and also drop off at your hotel in Warsaw.
Both of the options are available from Monday to Sunday (without Friday) at 9:55 am, 10:30 am and 1:30 pm. Pick the best day as well as time for you and join our tour! You can book the tour here!
Not Interested! Don't worry we have a number of Poland Tours available for you to browse and select